Finding Student Accommodation near ESCP London
If you have been accepted to ESCP London, you are about to start your studies at one of Europ's most prestigious business schools. This post will give you some insight into the kind of student accommodation you need to support your studies and make the most of your ESCP London experience. One of London's and the world's best business and administration schools, ESCP London is a private institution that is part of the ESCP (École supérieure de commerce de Paris) chain of six campuses located all over Europe. Established in 1819, ESCP is the oldest business school in the world. The school, however, continues to adapt and lead modern business life and is a thriving community of diverse students, researchers, faculty, and alumni. It is ranked 11th highest worldwide for its Master's in Marketing.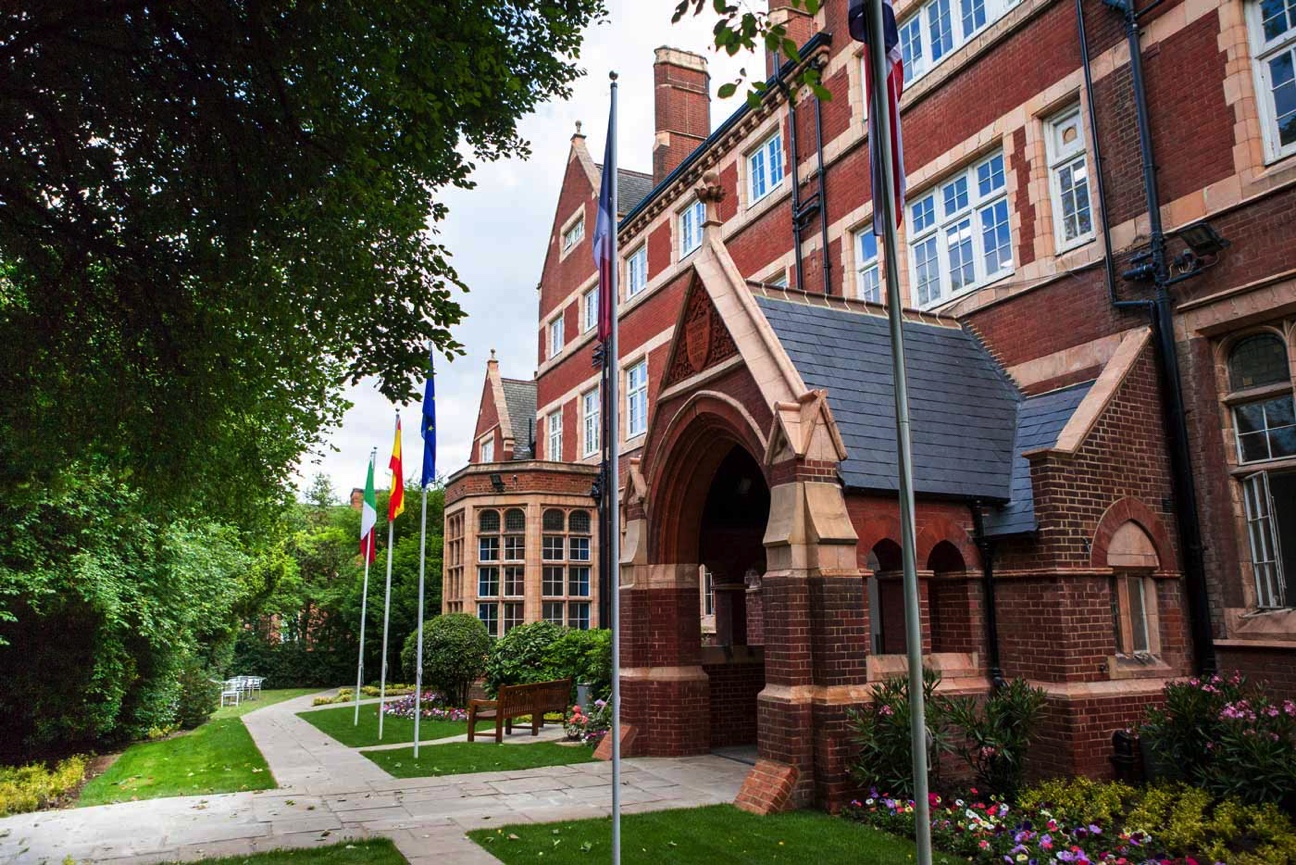 The uniqueness of ESCP London is that it allows its students to experience the global business world through hands-on experience at the world's and Europe's leading business hubs. The school has a strong network of associates which enables its students to achieve mobile and prestigious career opportunities. And for such opportunities, there is no better place than London. The school is involved in many pan-European projects, and students are encouraged to relocate across its campuses during their studies, choosing between London, Berlin, Paris, Madrid, Turin and Warsaw.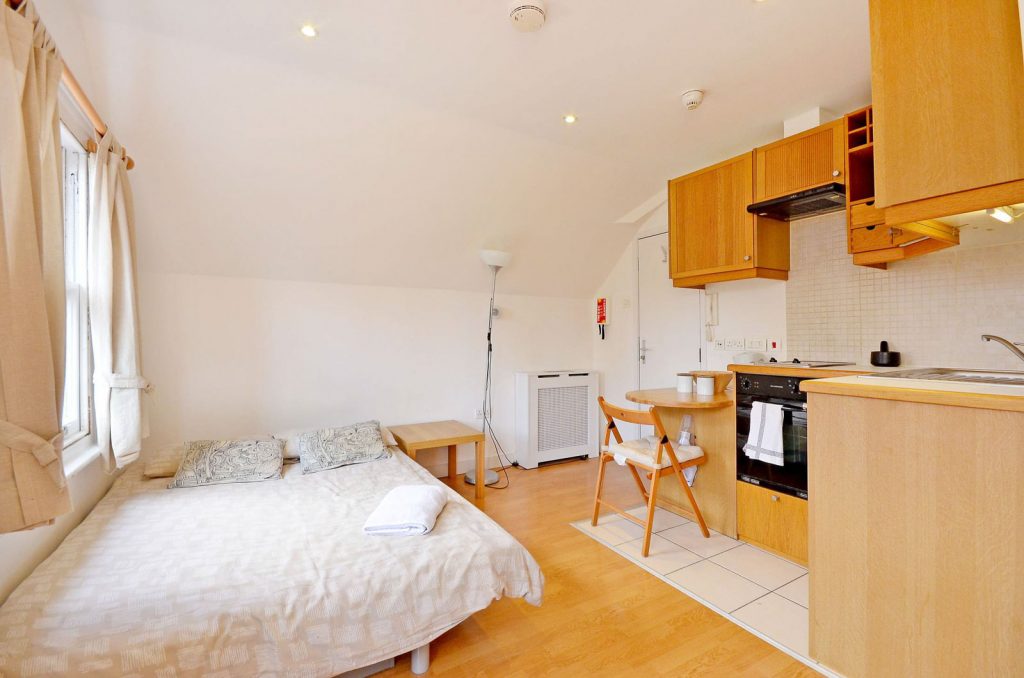 Find a Studio Flat Near ESCP, London
Looking for student accommodation near ESCP, London? Browse hundreds of furnished studio flats for rent in London. All studios come with free WiFi, 24/7 maintenance and utilities included.

ESCP draws 5,000 students on average per year, with more than a hundred countries represented on the London campus alone. Many more executives follow the school's distance learning and Executive MBAs and short course programmes. ESCP follows the European system of Master's and MBA degrees. Its tuition fees are also priced in Euros: Bachelor's degrees are 14,600€ for EU students and 20,700€ per annum for non-EU students, with Master's degrees costing 18,500€ p.a. for a full-time Master's.
ESCP London local area guide – Hampstead and West Hampstead
ESCP London is located in North West London on the border of West Hampstead and Hampstead (parts of the Borough of Camden). ESCP's traditional Victorian building, a former theological college, is on the Finchley Road.
The area, located in travel zone 2, is well connected by public transportation with the Jubilee Line, Overground and Thameslink train (to the City, London's prime business hub) at your doorstep. Many bus lines connect ESCP London's campus to surrounding neighbourhoods. Hampstead and West Hampstead have their own unique atmosphere. Leafy, affluent and peaceful, these neighbourhoods have their own fashionable vibe, which resembles that of a picture-pretty English village rather than a part of one of the world's great cities. Both neighbourhoods have had many notable residents over the years, including famous writers Evelyn Waugh and Doris Lessing, acclaimed actresses Emma Thompson and Imelda Stanton, Guns and Roses guitarist Slash and writer and media personality Stephen Fry. The West End Lane is the main high street of West Hampstead and features many charming shops, bars and restaurants, as well as a farmer's market for fresh local produce to Central London. On Finchley Road between West Hampstead, Hampstead and the area of Swiss Cottage, you can find the O2 Shopping Centre, which contains supermarkets, restaurants and bars and even cinemas and a fitness club.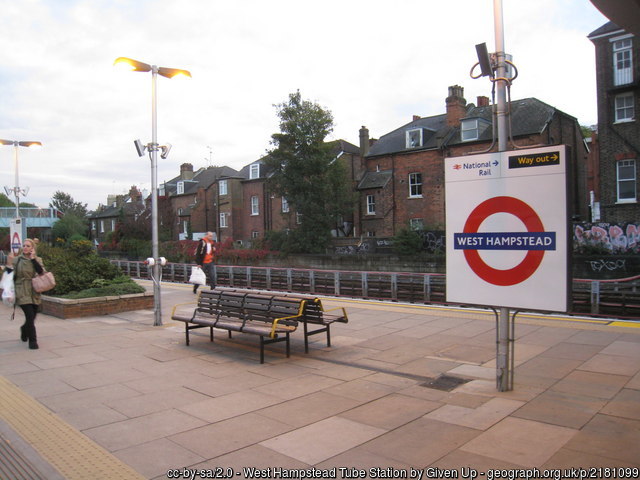 In the adjacent Hampstead village to the north, you will find the world-renowned park of Hampstead Heath, which has been featured in countless novels and films as one of London's most coveted spots. View the city skyline from Parliament Hill, enjoy a stroll in the woods and visit many beauty spots hidden in this lush piece of urban nature. To the South of West Hampstead, you can enjoy Regent's Park with its London Zoo and beautiful Rose Gardens.
ESCP London Accommodation
Studying at ESCP London reflects your dedication to launching or furthering your business career. Your choice of suitable student accommodation near ESCP will support you in your studies and make your experience worthwhile.
ESCP's website lists, along with the school's tuition fees, the average cost of living (including renting accommodation) near its different campus locations. It may not come as a surprise that London ranks as the most expensive in this list. The school also guarantees support for its students in finding housing. Students receive a "welcome pack" of practical information, which includes a housing guide describing all the possibilities, offers and services on each ESCP campus. According to the school, "ESCP students have preferential access to housing platforms with offers displayed for them".
What should you look for?
Coming to ESCP is a big commitment to your career path and you should look for suitable student and professional accommodation that supports your goal. The first thing you should decide on is how far from the school you are willing to live. London is an enormous city, and commuting could take out hours from your day. If you are committed to your studies, you should rent a flat close to the ESCP London campus or within a short commute. That means focusing on accommodation in North West London areas of West Hampstead, Hampstead, Swiss Cottage or (North) Finchley. If choosing to share, you should try to find flatmates with a similar lifestyle and study goals to yours so that you support each other in your studies rather than get in the way. You will need privacy for studying and relaxing after busy days. Especially if you'll be relocating between ESCP campuses, you should look for a fully-furnished flat and save yourself the trouble of sourcing furniture and appliances. You'll have no time to waste, so the more such a flat includes the better; if you can get linen, kitchenware, and a fast internet connection as well as furniture and appliances, you're ready to go as you can move in right away, without wasting time shopping to equip yourself with these basics. Also, take utility bills into consideration – whether those are shared with flatmates or contracted to you directly. Ideally, you should find accommodation where rent includes bills for basic utilities such as the internet. This will save you time and hassle and also means that your expenses are controlled and predictable.
One more thing to consider is that you might need to rent accommodation for an academic year, rather than the calendar year, or you might need to be flexible as you relocate to other ESCP campuses. Try to pick a student-friendly landlord who is familiar with renting accommodation for international students. They can give you a more flexible contract without some of the obstacles that you can expect from leasing agencies (such as references and early termination fees).
A good choice in terms of privacy is a studio flat. Studios are compact and self-sufficient units with your own bathroom, toilet and kitchen. Many student studio flats in London come fully furnished and even fully equipped and can have an all-inclusive rent.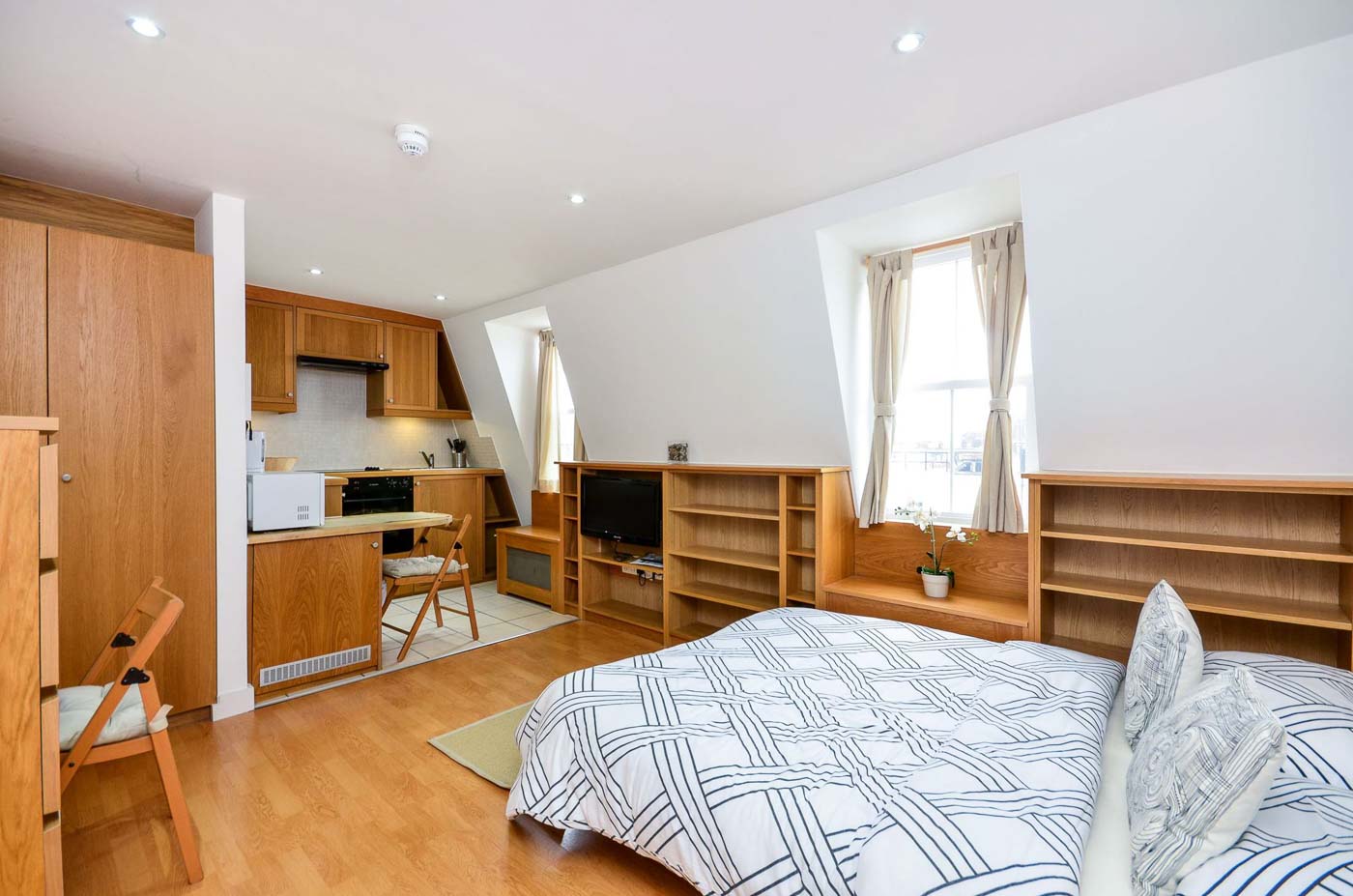 Whatever your choice of accommodation, make sure that you don't compromise on safety. Your flat and your building need to be secure, and the area you choose to live in safe and pleasant. Making sure that you have the right living conditions is the first and foremost step you can take to support your studies in London.
About us
At Studios2let we manage numerous fully-furnished studio flats in Central, West and North West London without a go-between agent. We rent studios for students as well as professionals, near public transport in some of London's best areas. We offer students ESCP London accommodation from 1-12 months. Our studios are modern, clean, safe and secure and include everything you need to make yourself at home in London right away.
Renting from us couldn't be a simpler procedure, and our rates include all utilities as well as high-speed WiFi. Many of our studios have communal gardens where you can enjoy some valuable London quiet time. If you need extra information or advice on choosing private student accommodation in London, be sure to visit our website and get in touch with any questions. We hope you'll find the best home base in London to launch your business studies and career.